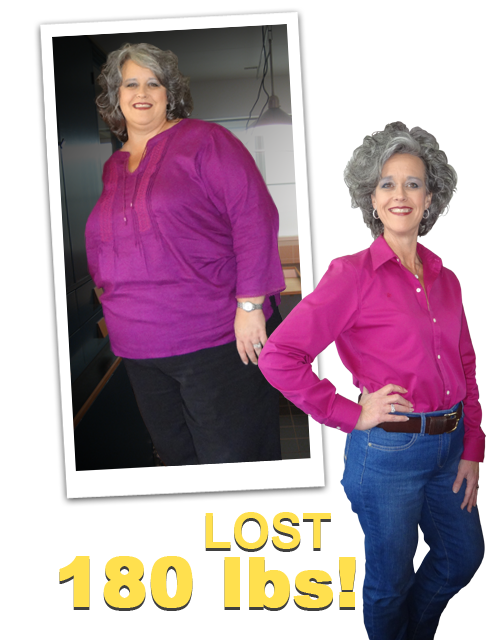 GET YOUR LIFE BACK!
Everything you need comes from the local grocery store!
Speed up your metabolism and get in efficient fat burning in only two days
No shots, pills, potions, or wraps
Eat your favorite foods just in the correct combinations
Reduce or eliminate meds
More energy and self confidence
Unrivaled support and care
Your own mentor and personalized meal plans provided
Classes held online, in person, or both
GET STARTED, FREE SIGN UP
---

Barry and Diana W.
I love planet Shibboleth. I have lost slowly since October and have gone from an 18 to a regular old 14 and L in shirts. No more Lane Bryant, no more Plus Size or Women's sides of the store. I shopped today and for the first time in 11 years, I am just plain and simple a regular sized lady!!!! Praise God-
Sharon Patterson
Blood work came back good! Dr. took me off my blood pressure medicine. I told him about my new lifestyle and Shibboleth. Said he had two more patients on it and was quite pleased with my results. July 22 till now, 55 lbs down!
Randy W.
This program is EXPENSIVE! You have to buy new clothes because your old ones just fall off!
Paula Davenport
Wow!!! I am so happy I hit a major goal 6 months ago. I weighed 290. Today, I weighed and hit 220. That's 70 pounds! Yes, I am one happy person.
Amber Hudgins
13 week update.....down 29 lbs...and more than 10 inches!! Shibboleth Rocks!!!!!
Candi Keeler
What you do/have done is amazing!! 1. The ministry is out of this world! I thank God for you and the rest of The Shibboleth Team for allowing God to work through you in so many ways! Lives are being touched that may never be touched if it weren't for Shibboleth. People are being witnessed to that may NEVER walk into a Church building, or may not have Christian friends and family, may not own a Bible. People that may NEVER hear God's word if it weren't for Shibboleth. Even if they're not thinking about it, they're hearing it and that seed is being planted. Thank you God for your servants so willing to say "here I am Lord, use me." 2. The tools y'all put out there for us all to use so that we may have a healthier, more active and longer life. Y'all amaze me!! The encouragement you offer to all of us! Prayer and encouragement is what we all need. This lifestyle is so easy. All of our lives can be changed and changed at a fast rate, medium rate or even slow rate. It's our choice! I've not discussed numbers publicly but here it goes. I stepped on the scales weighing 278.4 when I signed up on Shibboleth. My husband and I started Feb 4th 2016. Momma was put on Hospice Feb 16th and passed away Feb 26th and she lived with Scott and I. Feb. 22nd she heard me squealing like a pig (no pun intended) she knew it was a victory squeal. She wanted to know what "Shibboleth" had done for me. Lol I had to run upstairs and share it with her. She was so excited to see me taking my life back. I had gained 48lbs from July 2015 till Feb 2016. Momma passed Feb 26th just 22 days after we started Shibboleth and I was 21lbs down!! I could rattle on and on but I'll try to stop. Lol Yes we've been through some tough weeks. I must say though it's never been tough living our new lifestyle except portion control at times. I feel better than I've felt in so many years!! Even when I wasn't so heavy I didn't feel this good!! I don't know how many inches I've lost but I'll tell you what I do know. I do know that God is good!!!! smile emoticon I also know that I was 278.4lbs size 20-22 and I was miserable. I now weigh 224.2lbs and I'm wearing size14-16. So that's 54lbs down in just 3 months. My blood work is good but I'm going back to have it done again just to see the Shibboleth difference. June 10th. I apologize for writing what seems like a book but My God, Shibboleth, Team Shibboleth and my weight/health is something I can talk about all day long! If you're not being criticized I was always told you're sitting idle! We know our God doesn't want us sitting idle! Thank you again from the bottom of my heart. My husband has lost 49lbs. I love you all, members and Team and I pray for all of you. Please continue to pray for me. smile emoticon
David A.
Down 18 pounds in 49 days. The main thing for me is when I walk from my car into a store I feel 10 feet tall. I look around and see other people looking the way I used to look and think, just a few weeks ago I was there. It is a great feeling and it's something I think I can easily continue. Another benefit for me is NO HEARTBURN! No zantac. On one of my holidays I ate like a wild man and guess what (heartburn). I learned my lesson and will forever watch portion size. I am a happy camper at Shibboleth.
Chelsea Ward
This program is such a blessing! Thank you, Travis Martin and Sasha (and all of the others who make this program what it is) for being obedient to what the Lord has called y'all to do. Souls and bodies are being radically changed! Praise be to JESUS! #42poundsdown
‹
›