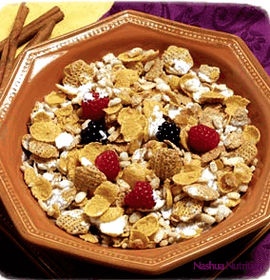 AHS Cinnamon Crisp Cereal
-3
You can use 1-2 packages as a meal with any approved milk. This is a weight loss cereal and it taste great. It is full of protein and is a -3 on the weight loss meter.
Watch Video about "Power Cereal" Meal
Watch video about "Cereal"
Watch Video - Planet Shibboleth
Product Disclaimer
Total Calories per serving: 90
Price :
$15.97
Retail Price
$12.78
Member Price
Attributes:
Product Points: 1
Quantity Per Box: 7
22
In Stock
Product Reviews
Average rating:
Please login to review this product.
---