SHIBBY SHOP

Vitamins - Awesome (1 Time Purchase)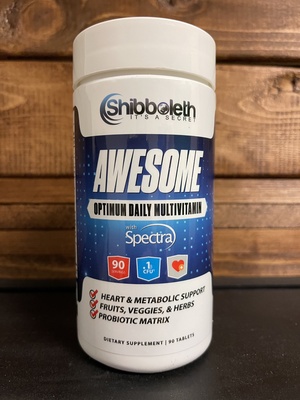 Ingredients: Milk thistle seed extract 50mg, dandelion root extract 100mg, green tea leaf extract 50 mg, kelp 20mcg. Fruits , veggies, & herbs (as spectra) 25mg: coffee arabica extract, broccoli sprout (seed) concentrate, green tea leaf extract, onion extract, apple fruit skin extract, acerola (fruit) extract, camu camu fruit concentrate, quercetin (from flower) , tomato concentrate, broccoli (floret and stem) concentrate, acai fruit concentrate, turmeric (root) concentrate, garlic clove concentrate, basil leaf concentrate, oregano leaf concentrate, cinnamon bark concentrate, elderberry fruit concentrate, carrot root concentrate, mangosteen fruit concentrate, blackcurrant fruit extract, blueberry fruit extract, sweet cherry fruit concentrate, blackberry fruit concentrate, chokeberry fruit concentrate, raspberry fruit concentrate, spinach leaf concentrate, kale leaf concentrate, bilberry fruit extract, brussels sprout edible head concentrate.
🎁 ON SALE! 40% OFF! Limited time only! 🎁
The NEW Shibboleth AWESOME one-a-day multi-vitamin is HERE!
This is a fantastic vitamin! ONE TABLET PER DAY provides over 70 ingredients including Vitamins from A to Z and cardiovascular and metabolic support. It packs a full dose of probiotics AND a complete fruit, vegetable and herb matrix!
One bottle provides a 3 month supply!
Normally priced at $49.99 (before Member discount), right now you can get a 3 month supply for $29.99! Members can purchase for $23.99. That's $7.99 per month for an AWESOME vitamin! You won't find one this great in the grocery store!
*If you exercise more than 3x per week or you are an avid athlete, you may want to take 2 - 3 vitamins per day.
Product Disclaimer
Attributes:
Quantity

:

90 Tablets

Auto Ship Period

:

DOES NOT AUTO-SHIP

Product Points

:

10
$29.99
Retail Price
$23.99
Member Price
Check out other similar product(s):
Product Reviews
---