STORE

Textured Vegetable Protein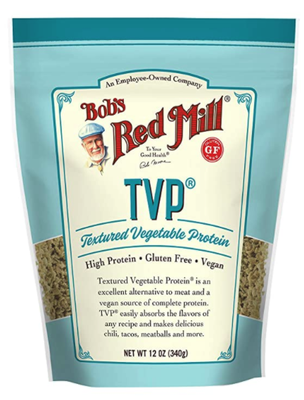 (Stock update: Our Vendor is unfortunately Out of Stock. We will update this listing as soon as we can get this item on order again).
TVP (Textured Vegetable Protein) is made from reduced-fat soybeans and is used to replace or extend ground meats. It can also be ground finely and added to casseroles or as a breading for chicken and vegetables to fry up in your Zero Drag 100% MCT Oil! See Shibboleth Care for how to use TVP for Shibboleth PERFECT days!
*New 12 oz package!
Watch Video - Cheesy Cauliflower Recipe Modification
Product Disclaimer
Total Calories per serving: 90
No Artificial Sweetener: yes
Attributes:
Size: 12 oz
Product Points: 1
$7.00
Retail Price
$5.60
Member Price
Product Reviews
Please login to review this product.
---