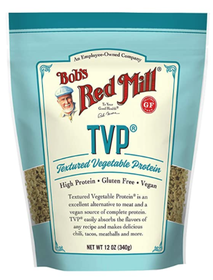 TVP (Textured Vegetable Protein) is made from reduced-fat soybeans and is used to replace or extend ground meats. It can also be ground finely and added to casseroles or as a breading for chicken and vegetables to fry up in your Zero Drag 100% MCT Oil! See Shibboleth Care for how to use TVP for Shibboleth PERFECT days!
*New 12 oz package!
Watch Video - Cheesy Cauliflower Recipe Modification
Product Disclaimer
Total Calories per serving: 90
No Artificial Sweetener: yes
Price :
$7.00
Retail Price
$5.60
Member Price
Attributes:
Size: 12 oz
Product Points: 1
5
In Stock
Product Reviews
Please login to review this product.
---