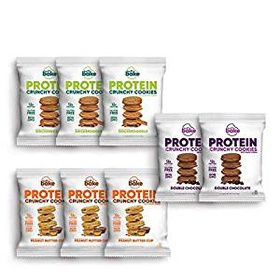 Buff Bake Protein Sandwich Cookies
-3
Buff Bake's Protein Sandwich cookies are the new and exciting way to get some extra protein in your diet!
Snickerdoodle - Crunchy cinnamon cookie outside and smooth cinnamon almond butter on the inside, all packed with protein.
Peanut Butter Cup - Enjoy rich, white chocolate peanut butter sandwiched between two crispy chocolate chip peanut butter protein cookies on the outside!
Double Chocolate - Crispy chocolate protein cookie outside and protein chocolate peanut spread on the inside.
All With NO artificial preservatives, sweeteners or flavorings, this sweet treat will satisfy both the inner child and the responsible adult inside of you!
Product Disclaimer
Total Calories per serving: 220
Price :
$2.88
Non-Member Price
$2.30
Special Member Pricing
Attributes:
Qty.: 1 Package (4 Cookies)
Product Points: 1
Product Reviews
Average rating:
Please login to review this product.
---