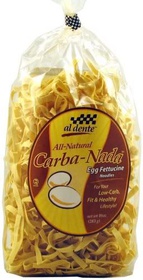 Carba-Nada Low Carb Fettucini Noodles
-1
Category I+II+III Pasta. You can have up to 1 and 1/2 cup cooked. Delicious!
Product Disclaimer
Serving Size: 1 1/2 cups / 5 servings per container
Total Calories per serving: 170
Price :
$7.25
Retail Price
$5.80
Member Price
Check out other similar product(s):
Product Reviews
Average rating:
Please login to review this product.
---