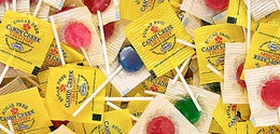 Candy Creek SFLollipops (1 doz)
0
Assorted Flavors - Candy Creek Sugar Free Lollipops (Per Dozen)
With mouth watering flavors like strawberry, sour apple and watermelon, you will love them and the kids may not believe you when you say they are sugar free!
**Also now available: chocolate mint and butterscotch!
Product Disclaimer
Price :
$3.50
Retail Price
$2.80
Member Price
74
In Stock
Product Reviews
Please login to review this product.
---