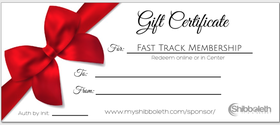 Fast Track Gift Certificate
***Order your certificates today, they will ship with your order!***
Purchase our Fast Track Membership for your loved ones!
Right now the Fast Track Membership is only $10 and has NO EXPIRATION DATE!
The Fast Track Member can start whenever the time is convenient for them.
Their membership never expires.
Self-Guided lessons and tasks the Member can easily check off as they go.
They have access to 14 short video lessons to keep and refer back to at any time.
Live instruction is available 2x per week with Q&A from Kim Dahnke, our Certified Instructor and Mentor.
Online Journaling & Journal Checking
Simple approved lists of Food, Recipes & Restaurants are available at their fingertips for fastest weight loss!
**Limited time offer! The certificates will be available in Centers in December for purchase!
Product Disclaimer
959
In Stock
Product Reviews
Please login to review this product.
---