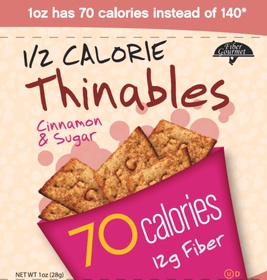 Fiber Gourmet Cinnamon Thinables
-2
These delicous treats are a yummy replacement for graham crackers! Get creative and crush them for pie crust, ice cream or yogurt topping or serve up with peanut butter! 1 pkg can be used as a Category 2, 2 packages of these can be your snack!
Product Disclaimer
Serving Size: 1 package / 1 oz
Total Calories per serving: 70
Price :
$7.01
Non-Member Price
$5.61
Special Member Pricing
Product Reviews
Average rating:
Please login to review this product.
---