**BECOME A SHIBBOLETH MEMBER TODAY AND SAVE!**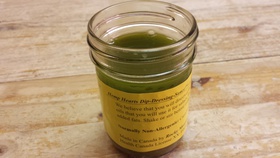 Hemp Hearts Dip-Dressing Sauce
Hemp Hearts Dip-Dressing Sauce is made from Hemp Hearts. This is going to be used as is or can be the base for any dressing such as italian, greek, viinegarette, etc. Delicious way to add protein to your salad.
Price :
$14.04
Non-Member Price
$11.23
Special Member Pricing
Attributes:
Size: 7.2 oz. jar
Product Points: 1
Product Reviews
Please login to review this product.
---