**BECOME A SHIBBOLETH MEMBER TODAY AND SAVE!**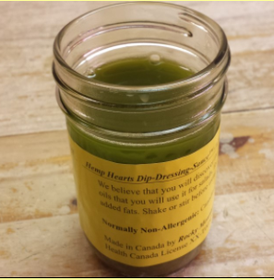 Hemp Oil / Dip / Dressing
8 oz of freshly squeezed hemp oil can be used as a cooking oil, and can be mixed with other spices for dressings or even dips.
About 1/3 of it consists of fine particles of Hemp Hearts. It is the only oil on the planet containing protein. This can be used alone as a dip, salad-dressing, wok-cooking sauce, frying-pan sauce, a meat-roasting sauce, etc. If you add flavor ingredients you can make some more traditional tasting dips, dressings and sauces. You can store it frozen and use it directly from the freezer.
Price :
$14.04
Non-Member Price
$11.23
Special Member Pricing
Product Reviews
Please login to review this product.
---