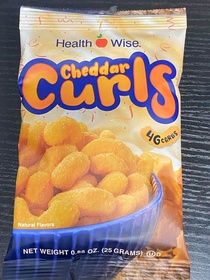 High Protein Cheddar Curls
0
These cheddar curls are a great void replacement for cheese puffs, but they will not call out the fat bus. You can have them as a meal or snack or alongside of any meal combination that doesn't include a category 3 or 5. Please see our food library for details.
Product Disclaimer
Total Calories per serving: 110
Price :
$2.50
Retail Price
$2.00
Member Discount Special
Attributes:
Size: .88 oz
Product Points: 2
29
In Stock
Product Reviews
Please login to review this product.
---