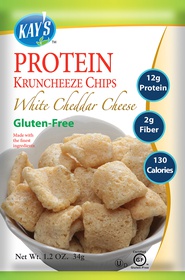 Kay's Naturals Protein Kruncheeze (We are so sorry, but the Kay's Naturals line of products has been discontinued. We have been able to purchase a limited amount of remaining products from the manufacturer.)
Get your cheese fix with our White Cheddar Cheese Kruncheeze. The initial flavor is a mild cheese flavor that grows with each bite!
1 bag = snack
2 bags = meal
Product Disclaimer
Price :
$2.11
Retail Price
$1.69
Member Price
0
In Stock
Product Reviews
Average rating:
Please login to review this product.
---