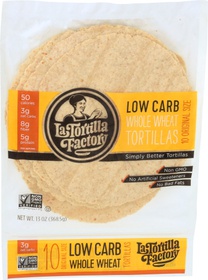 La Tortilla Factory High Fiber Tortilla
La Tortilla Factory Original Tortillas have 5 grams of protein, 7 grams of fiber, and only 50 calories in each tortilla. One tortilla is equal to 1/2 cup of Category II, so you can have up to 2 per meal, but Travis prefers you only use one. Even though these are a Category II they are not freebies or catabolic.
The Garlic & Herb and Large low carb, high fiber tortillas work as well.
Watch Video - Bacon & Cheese Burrito
Watch Video - Jason at the Happy Chicken
Product Disclaimer
Price :
$6.00
Non-Member Price
$4.80
Special Member Pricing
Product Reviews
Average rating:
Please login to review this product.
---