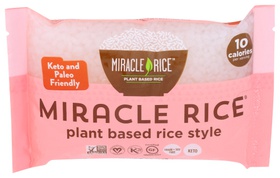 This rice counts as a Freebie! Check out Shibboleth Website for recipes using Miracle Rice.
*Shirataki Rice * Guilt Free Rice * zero calories * soy free * gluten free
Look for all the great recipes in Shibboleth Website that use Miracle Noodles and Miracle Rice.
Product Disclaimer
Serving Size: 3 oz / 3.5 servings per bag
No Artificial Sweetener: yes
Price :
$4.67
Retail Price
$3.74
Member Discount Special
5
In Stock
Product Reviews
Average rating:
Please login to review this product.
---