SHIBBY SHOP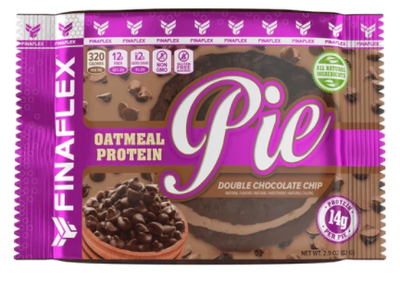 Ingredients: Palm Oil (Responsibly Sourced), Whole Rolled Oats, Promitor Soluble Fiber, Chicory Root Fiber, Applesauce, Honey, Oats, Partially Hydrolized Whey Protein Isolate, Milk Protein Isolate, Cocoa Powder, Glycerine, Sugar Free Chocolate Flavored Chips, (Contains Soy Lecithin), Whey Protein Isolate, Butter, Powdered Sugar, Canola Oil, Natural Flavors, Milled Flax Seed, Cinnamon, Baking Soda, Sunflower Lecithin, Salt, Stevia.
(The Fruit flavors of the Oatmeal Pie are currently unavailable; the Blueberry and Key Lime flavors have been discontinued. We have been told that the Apple Pie and Strawberry Pies should be manufactured again soon. We will keep you updated as we learn more).
This "oatmeal pie" is a fantastically unique all-natural functional food that delivers 14 grams of high-quality protein in every pie. These are soft and chewy with a rich creamy marshmallow filling that you won't believe is healthy for you! Additional flavors include Apple Pie, Georgia Peach Pie, Double Chocolate Chip Pie, Blueberry filled American Pie, and Key Lime Pie.

All Natural
Non-GMO
Kosher
Delicious
You may have a whole oatmeal protein pie as a 0 WLM meal replacement or have 1/2 of an oatmeal protein pie with any of the following as a perfecting pairing -1 WLM meal replacement (1 scoop of Beverly UMP mixed with water, 1 packet of Healthwise Hot Chocolate, or 8 oz Kroger Carbmaster or fat-free Fairlife milk). You may also choose to use other -2 or -3 WLM protein shakes in place of Beverly if you'd like, but be sure not to exceed 100 calories of protein shake mix and mix it with water.
Watch Video here:
Product Disclaimer
Total Calories per serving: 310
Attributes:
Quantity

:

4 pies

Product Points

:

5
$16.00
Retail Price
$12.80
Member Price
Check out other similar product(s):
Product Reviews
---