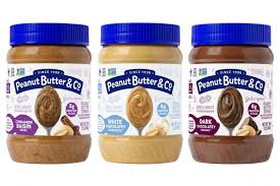 A lot of the Chocolate flavored peanut butters are filled with "bad fats" and sugar. Peanut Butter & Co. puts out a great line of tasty alternatives with their Dark Chocolate Dreams Peanut Butter, Cinnamon Raisin and White Chocolate Dreams. The Dark Chocolate taste like fudge. If you are looking for a healthy and satisfying snack then try 1 tbsp of these peanut butters with up to 7 approved biscotti or have 1 tbsp with bran crispbread. You won't be disappointed.
Product Disclaimer
Price :
$7.75
Retail Price
$6.20
Member Discount Special
Product Reviews
Average rating:
Please login to review this product.
---