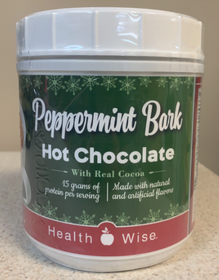 Peppermint Bark Hot Chocolate Canister
This awesome flavor is here just in time for the Holiday Season!
You can have up to 3 servings of this hot chocolate as a snack!
This Tub has 28 Servings!
Each Serving contains the following:
15g Protein
3g Carb
2g Sugar
80 Calories
Product Disclaimer
Price :
$42.00
Non-Member Price
$33.60
Special Member Pricing
Attributes:
Qty.: 1
Product Points: 2
Product Reviews
Average rating:
Please login to review this product.
---