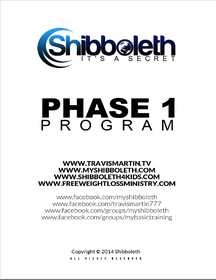 Shibboleth Phase 1 Basic Training
This book is filled with valuable information and is a necessary companion for all participating in the Shibboleth Lifestyle. It contains the complete foundational program along with food categories, combinations, timing, journaling details and a restaurant guide to get you started on the go!
The book can also be used as a stand alone resource for those who don't have internet access or prefer learning by reading. Many people around the country have learned the Phase 1 Basic Training program exclusively using this easy to understand book.
This is a great spiral bound book that is perfect for note taking in class and even easy reference in the grocery store.
Order the book and get your life back now.
Shibboleth, Shh! It's a secret.
Product Disclaimer
Price :
$25.00
Non-Member Price
$20.00
Special Member Pricing
Product Reviews
Please login to review this product.
---