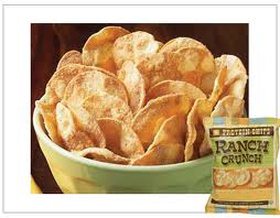 These new high protein chips can be eaten alone as a snack or with your meal. Unlike the other approved chips, these have 10 grams of protein and less carbs than other chips, keeping you fuller longer and without craving more carbs! Enjoy each bold and robust flavor!
Product Disclaimer
Total Calories per serving: 130
Price :
$2.00
Non-Member Price
$1.60
Special Member Pricing
Product Reviews
Average rating:
Please login to review this product.
---