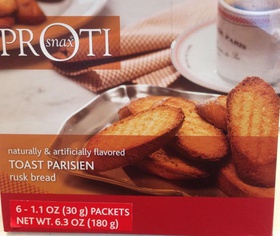 Proti-Snax Toast Parisien Bread
-3
The Proti Snax Toast are excellent on a salad as croutons or even for soup. These pieces of bread are packed with high protien and fiber!
1 Bag = snack
Watch Video - AHS Fettucine w/ Tuna
Watch Video - Planet Shibboleth Scampi
Product Disclaimer
Total Calories per serving: 110
Excellent Source of Fiber: yes
Price :
$15.15
Non-Member Price
$12.12
Special Member Pricing
Product Reviews
Please login to review this product.
---