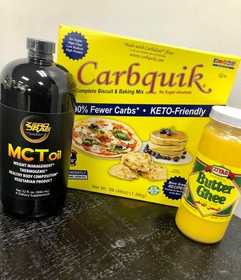 Recipe Starter Kit - Sale Price!
MCT Oil, Ghee Butter & Carbquik! For all of you seasoned chefs or if you are just beginning to cook at home, this kit is going to last you for months and will enable you to easily turn all of your favorite recipes into FAT BURNING, TASTY meals!
**This kit is already discounted and on sale and therefore not eligible for an additional 20% discount.
Product Disclaimer
38
In Stock
Product Reviews
Please login to review this product.
---