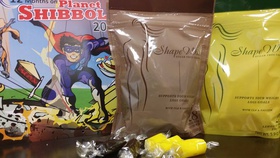 Planet Shibboleth announces another new product, and guess what? It is a freebie.
That's right. Shape Wise chews don't just take like a tootsie roll, but are great for the waist line as well. They have CLA in them which has been shown to be a great weight management supplement. Do your own research. Our statements are not regulated by the FDA. However, anytime you can consume a low calorie treat that fills the void of an old favorite like a Tootsie roll then you definitely have a winner.
Better yet, 4 Shapewise chews count as a freebie on the Shibboelth program.
Product Disclaimer
Total Calories per serving: 20
Product Reviews
Average rating:
Please login to review this product.
---