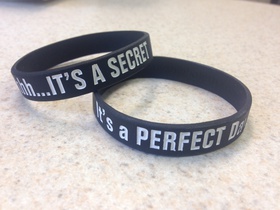 Shibboleth Wristband / Bracelet
Snap this sucker on your wrist if you are even thinking about having an unplanned "holiday"!
With "It's a PERFECT Day" on one side and "Shhhh it's A SECRET" on the other, you have a reminder all day long of your "Why" and that food is not the ruler of you!
Wear the bracelet proudly!
Each wristband is $2.50 (minimum 2 wristbands per order)
The proceeds from these bracelet sales go to help fund our mission of teaching the world about Shibboleth.
Thank you for your love and support of the Shibboleth Program and for being part of our family!
Product Disclaimer
Price :
$5.00
Non-Member Price
$4.00
Special Member Pricing
Product Reviews
Please login to review this product.
---