STORE

Square Meal Desserts - Hemp Desserts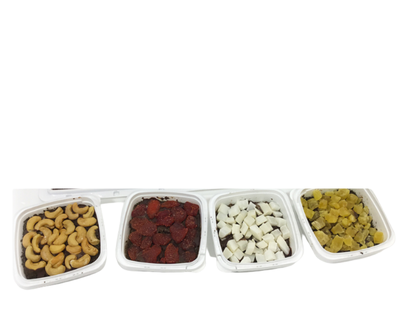 PLEASE NOTE THAT WE ARE WRAPPING CHOCOLATE PRODUCTS IN A PROTECTIVE INSULATED BARRIER; HOWEVER, WE ARE UNABLE TO GUARANTEE THAT THE CHOCOLATE PRODUCTS WILL NOT MELT DURING THE EXTREMELY HOT SUMMER DAYS WHILE THEY ARE IN TRANSIT TO YOU. WE CANNOT ISSUE REFUNDS OR REPLACEMENTS FOR MELTED CHOCOLATE.
Each dessert contains 2 oz of Hemp Heart Protein Flakes bonded with dark chocolate and topped with one choice of nut or dried fruit.
Because the base of each dessert contains over 30 grams of protein, each one will satisfy hunger for hours! This weight-loss dessert is called "tissue health dessert," as the protein rebuilds and protects active tissue.
Product Disclaimer
Serving Size: 1 container
Excellent Source of Fiber: yes
No Artificial Sweetener: yes
No High Fructose Corn Syrup: yes
Attributes:
$9.36
Retail Price
$7.49
Member Price
Check out other similar product(s):
Product Reviews
---