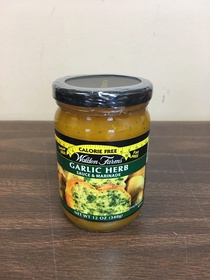 Walden Farms Garlic Herb Sauce & Marinade
0
Walden Farms Sauces are perfect for flavoring your beef, chicken, or pork and contain zero fats, sugars, and calories. You may use these sauces anyway you like guilt free. Walden Farms Sauce & Marinade is a Freebie.
Product Disclaimer
No Artificial Sweetener: yes
Price :
$7.50
Retail Price
$6.00
Member Price
Attributes:
Size: 12 oz
Product Points: 1
6
In Stock
Product Reviews
Please login to review this product.
---