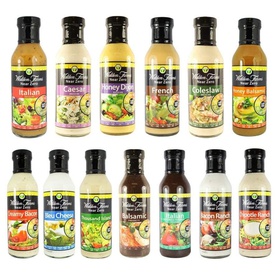 Walden Farms Calorie Free Dressings are a delicious way to add condiments to your meal. Try marinating your chicken breast or pork loin in Creamy Bacon Ranch, Italian or any of the other delicious flavors. Add some fat free feta cheese to your WF Blue Cheese dressing for a delicious veggie dip.
WF Calorie Free dressings, dips, sauces and syrups etc. are freebies!
Look for the WF dressing and syrup packets as well to take with you on the go!
Product Disclaimer
Price :
$7.50
Retail Price
$6.00
Member Price
Product Reviews
Average rating:
Please login to review this product.
---