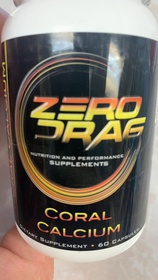 Get your daily calcium needs with our Coral Calcium supplement. 1 Capsule contains 200 IU or 50% of your Vitamin D-3 needs and 1000 mg of Coral Mineral Powder. 1-2 capsules per day is recommended based on the advice of your physician.
Product Disclaimer
Price :
$24.95
Non-Member Price
$19.96
Special Member Pricing
Product Reviews
Please login to review this product.
---