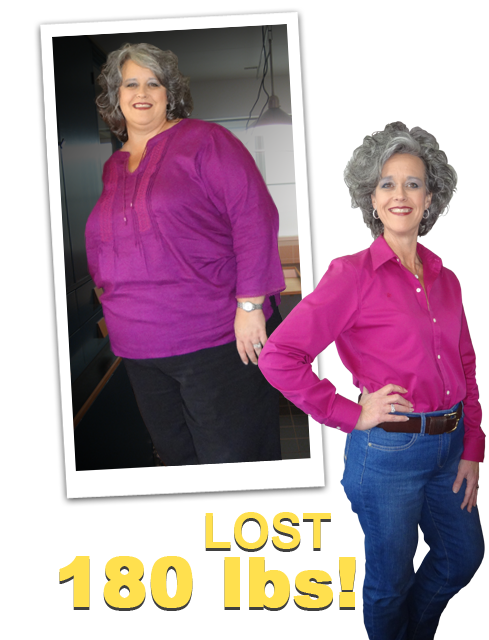 GET YOUR LIFE BACK!
Everything you need comes from the local grocery store!
Speed up your metabolism and get in efficient fat burning in only two days
No shots, pills, potions, or wraps
Eat your favorite foods just in the correct combinations
Reduce or eliminate meds
More energy and self confidence
Unrivaled support and care
Your own mentor and personalized meal plans provided
Classes held online, in person, or both
Get Started, SIGN UP NOW!
---

Diana Gray
So...I am cleaning out my closet of all my bigger size clothes that are WAY too big now! I came across a pair of jeans that I have had for 11 years... Yes 11 years. My grandmother bought them for me after I had my daughter so that I would have some clothes to wear once I got out of maternity clothes. Of all the stuff she bought, those are the only things I kept because nothing ever fit. So today I found them and thought I'm going to try these on and now I'm sitting here in them typing this out. They are button and I am still breathing... I guess that means they finally fit. Since June 1st I've went from a size 30 to a 24 in jeans!
Vickie N Larry Radford
I want to say BIG THANK YOU to my Shibboleth family, Lisa Ward, Jason Whitener, Travis Martin, and Milly Waters! I weighed in tonight and I am very proud to say I am below goal weight!! 52 pounds gone to never return and size 20 has been kissed good bye forever and hello size 6-8! Dedicated determination pays off.
Teri Elrod
4 trips to exchange new bathing suits because I have lost so much weight and inches! I feel and see my goal getting closer!
Cindy Hindman Walters
This lifestyle ROCKS! The last 90 days look just like the prior 15 months in maintenance. Thank you Sasha Martin and Travis Martin for loving us enough to share your heart's desire for all that will do as taught. Love you two! Started at 330, goal assesment guided me to 157 and listening to my body. 153 is my line in the sand number. God is mighty!
Sheree Upton Weeks
I officially started Shibboleth on May 13, 2016. I had try everything to lose weight. I would lose some then gain back more. I do not feel like I am on a diet. Having severe allergy to gluten, there are still foods you can eat and recipes I can use on this meal plan. So even if you have Celiac disease or gluten allergy, you can follow this meal plan. I just changed the food that I eat. I never thought after starting I would hit the 25 pound mark. Now I am ready for the 50 pound badge. Thank you Travis Martin for your videos of inspiration. You really keep me going.
Donna Hunter McCoy
I started Phase 1 Monday and I am down 6 pounds and my husband started Basic on Monday and he is down 11 pounds as of today. He is moving up to Silver today because he believes in Shibboleth now. Thank you Travis Martin for this awesome plan and the support has been amazing!!
April J Wilson Littleton
I'm shrinking! I used to never like pictures of myself, but that's changing. A long time and many "diets" ago, I heard a saying "Nothing tastes as good as being thin feels." Well, I say nothing tastes as good as being healthy and happy feels! I thank God for bringing Shibboleth into my life and especially Travis Martin, Tyler Mathis, Jason Whitener, and Lisa Ward.
Heather Newton Dills
For the first time in 19 years, I went shopping and DID NOT have to shop in the PLUS size department. I was so excited.
Angela Bell Gentry
I know I shouldn't base my success with the number that shows up on the scale, but this morning I saw a number that I haven't seen in more than 15 years, when I found out I was expecting the first of my four kids. #thankfulforbeingledtoshibboleth #thankfulforthevisionGodgave
April J Wilson Littleton
We earned the honor of wearing jeans today at work so I'm wearing my brand new size 18 versus my old size 24! Whoot! Whoot! GO ME!
Brenda Sue Burk
I just want to say how much I appreciate Travis Martin and all other people of Shibboleth! I've been on the program for 16 weeks and I've lost 42.2 lbs and I feel wonderful. Shibboleth is the best weight loss program out there as far as I'm concerned. Thank you guys so much for all your support!!
Keri Hefner Cope
Shibboleth is a lifestyle solution to the obesity epidemic. Down 170+ lbs and almost to maintenance.
Andrew Stone
Shibboleth changed my life forever! I'm 47 pounds down since February, and I don't feel like I'm missing out on anything! This program works! It's not a DIEt. It's a way of life! Thanks guys for your hard work and dedication to us the members. We couldn't do it without our mentors!
Jessica Pratt Lamb
I am so excited this morning!!!! I can wear my jeans that i haven't worn in 3 years!!!! Whoop Whoop! Hope everyone is having a perfect day!!!
Lynne M. Wheat
I made it!! I'm so proud of myself!! I reached my goal today!! Total of 40 plus lbs. since January 5, I'm off of blood pressure meds, and cholesterol meds. I'm one happy older lady!! lol I truly worked hard, i stay faithful, even when people said, oh just one bite won't hurt. I knew that one bite would turn me around. Once i make my mind up to do something, there's no stopping me. First, i want to thank my Heavenly Father for the strength He gave me. Then i would like to thank the Shibboleth family, Travis Martin, Sasha Martin, Lisa Ward, Jason Whitener, Tyler Mathis, and a dear friend Sonya Banks for sharing a great weight loss program. That one share to join Shibboleth changed my life. Thank you all!! Wow! I truly love this planet!! Shibboleth taught me how to eat correctly.
Lacey Barrett
When your favorite pair of pants keep falling off your hips, you know results are happening. Thank you Shibboleth!
Terry Ford
Time to testify. I just watched today's videos and I must say Travis Martin that you were feeling the spirit today! Also, Sasha, behind every good man is a Great woman...God bless you both for what you do! My niece signed me up on Jan 8. I finally started on Jan 18. Since then, I have had good days and fat days but that's okay because as of today, I weigh 191.2! When I started, I was 237.6. I haven't been under 200 in several years. I weighed 140 when I met my Joe and then I got COPD. Bad lungs, I couldn't breath. Been hospitalized several times. High blood pressure, high cholesterol, under active thyroid! Oh my... I have tried many weight loss programs, but they never worked. Ever! I have lost 46.4(my scales)in 5 months. Sometimes I gain, sometimes I don't lose at all, BUT, I stay the course...I try to live Shibboleth everyday. Sometimes I win and sometimes I lose. I love Shibboleth. I live my niece Tammy Burggraf for sponsoring me. I love Travis and Sasha Martin for all they do...
Bobby Cartledge
After 9 1/2 months on the Shibboleth planet I find myself with a huge regret, which is that I didn't start my journey two years ago when I first heard of Shibboleth! I tell everyone that God has given me a new lease on life! It's been nothing short of life changing! I started my journey on August 24, 2015 and my goal weight is coming into sight! I was put in the hospital on April 12, 2015, my A1C was 10.2 and my glucose was 283, doctor told me I was going to die if I didn't change! On April 14, 2016 I had lab work done again and my doctors words to me were this "Mr. Cartledge you have cured your diabetes". My A1C was 5.4 and my glucose was 86! The Lord cured my diabetes thru Shibboleth and no one can make me doubt that! I share it everywhere I go and try to get people to join this amazing health planet and stop destroying their lives! I spent most of my 53 years killing myself with bad choices, I plan to spend the remainder of my days trying to repair this temple that God loaned me and getting it into the best shape possible for the day He wants it back. Shibboleth ranks among the best decisions of my life, accepting the Lord and marrying my bride and best friend are the top two! Bless the name of the Lord at all times!
Joseph An-Lisa Bordner Crider
Good morning shibboleth friends PRAISE THE LORD FOREVER day 7 WOOOOOOOO HOOOOOOOOO I'm excited about 9 lbs gone but way more than that my sugar usually stays around 170 to 190 with meds today no med this week 134 PRAISE THE LORD AGAIN.
Cj Jones
Lost 3.4. Lbs since started my journey with Shibboleth on Friday! I plan to have a perfect 30 by the 3rd of July. I am excited beyond words about this program and having accountability for my nutrition and lifestyle. The last 3 days have been very tough. I am a Trauma Surgery RN at a level 1 Trauma hospital in Chattanooga and help save the lives we receive by helicopter or ambulance. I work night shifts, 12 hours and anyone that has ever works nights knows how hard it is to stay on task with getting healthy. I educate my patients on their health issues and problems. I always feel like a hypocrite, because I am very educated in good health and wellbeing, and very well versed in nutrition. I am currently working on my Masters degree for Nurse Practitioner so that I may be able to make a difference in our community. For the last 5 years I have talked the talk and not walked the walk. Well, no more! I am going to be an example for my patients, my family, friends, and coworkers . I have to lose 120lbs, but that is not my main focus. I joined the wonderful program of Shibboleth to get my health back. I want to lose the weight, but more importantly, I want to move without pain, decrease my blood pressure, tie my shoes without grunting, and have endless energy to stand by my patients' side in their life threatening and traumatic situations. I am proud to be a Shibboleth member! I have been praising the coaches and Travis Martin for their dedication to helping people change their unhealthy lifestyle permanently to one that members can be proud of for their physical, mental, and spiritual self. I am on the WARPATH of loving myself again. Thanks to all who work so very hard to make it possible. Have a blessed day everyone!
Tanya-Marie Pocino Cockrell
Whoooohooo! I stepped on the scale this morning and I was 159.8. 10 months ago today I was 282 pounds (and I'm only 5'3"), and couldn't imagine ever seeing the 150's again, but thanks to the trinity challenge Ive broken the mindset that was keeping me in the 160 s stalled for the last month and a half. I've lost a little over six pounds so far and finally am in that 150 range. My goal weight I set with my doctor last August was 142 (although mine is 140, cause that's a nice round number lol), and for the first time EVER in my life, I actually feel like I have a fighting chance of meeting that goal. Thankful to my doctor for all the medical advice, and to shibboleth and Travis Martin for helping me get my head screwed on straight, and teaching me a sustainable way to live. Bless the Lord oh my soul!
Sharon Davis Ashley
And if it wasn't for Travis Martin and my Shibboleth family and some of my own family I wouldn't have gotten this far and after seeing transformation and know with God helping me it's made me strong enough I can walk away from temptation if needed...One of the things I remember when I get tempted I think of how Jesus was tempted 40 days and nights and how much he over came on temptation and I know with the him helping I will go far and I know it will be worth it because everything he did was worth it.....Love you all and have a blessed day.
Candi Poe Keeler
I absolutely LOVE going into my closet to check out clothes I've not worn in years, (you know just in case, with that doubt in your mind) and come out with jeans to wear tonight!! Whoop whoop My closet has always had a wide range of sizes (10-22). NO MORE!! As they become too big for me I'm getting rid of them!! I can say the largest size in there now are 16s!! Thank you Lord for sending Shibboleth my way!
Kimberly Clark Laney
Travis Martin and Sasha Martin..... Thank you so much for this weight loss ministry. I've tried other weight loss groups out there. Something has always been missing in them for me. I guess I knew what it was but never knew exactly how to find it. Our church did offer WW at one time and I went and thought this is it. I just had comfort knowing that I was in the Lords house but it just did not work for me. Now I know it was more and you have brought that to light for me. It's not that I just need to lose the weight for me and take of my body but God gave this body to me and I have mistreated it very badly and for that I am very sad. Thanks to y'all I have found where I need to be and am on a journey to straighten out the mess I have created. Have a very blessed day and know that you are appreciated.
Angela Bell Gentry
This girl right here just "WALKED" through the airport to her terminal, instead of the tram! Then, sat in her own seat and easily buckled her seat belt!!!
Buddy Vanmeter
I would like to thank my wife Angie Smith VanMeter Bobby Cartledge Tyler Mathis Jason Whitener Travis Martin and my shibboleth family and most of all my lord and Savior Jesus Christ for given the the strength and willpower I am down 83.4 lb in four and a half months still got a ways to go praise the name of the Lord!
Danney Davis
Great news from my doctor ... I was taking 3 meds for my blood pressure as of 3 weeks ago I only take 2 with 1/2 the dosages that I was taking if I stay on track they are going to stop the meds all together ..
Charlotte Parker
I have spent far more with other groups and far less support. Shibboleth is a good value. Staff is so supportive.
Virginia D Kinsey
Love the planet joined the last of January and am down 30 lbs it's great eat what I like. Love the classes look forward to them each week. Tyler is a great instructor and makes it so much fun.. My last doctors visit after only being on it 2 months my numbers were down and my sugar back in normal range. This makes it worth it all for me. Can't wait till next month when I go back to the doctor to see how much more they have dropped. Get on the planet with us you won't regret it
Bridget Bradley
Incredible program and support staff! No program like it! It has changed my life!
Jessy Reid Williams
Shibboleth is a life saving ministry! It is worth so much more than the low $99 per year fee! After years of being over weight and miserable and being told I could never have children, with Shibboleth I lost 50 lbs and was able to get pregnant and have my miracle baby boy. Shibboleth also helped my husband lose 40 lbs and get healthier too. We both have heart issues and keeping our weight in check is extremely important to our health. We count on Shibboleth to help us stay healthy and active for our kids and family!
Kevin Stanley
It is an awesome life style makeover. Started at 215 and now I'm down to 195. Just by eating smart. That's what they teach at planet shibboleth, how to group foods together so your body will know how to turn it into fuel.
Elaine Carden
I have been on the plan for 3 yrs, I renew every year, I'm afraid I'm gonna miss something. I've been on the wagon and off the wagon, which is my fault. I can't tell you how good this plan is. I've tried everything and never seen the amount of support, ideas for approved foods, recipes, whatever your needs are they are there to help and show you a way to get healthy, $99.00 A YEAR!!! Is Great for all access you get. You'll see . If it wasn't something worth the money I sure wouldn't renew every year. You can even attend informative classes with a busy schedule ( which is Great ) thru their recorded classes or be there live and interact with questions also. I could go on and on . Just try it!!!
Brenda Sue Burk
I started in March and have lost 26.8 lbs. The Shibboleth lifestyle has made that possible. The $99 price is a great price concise ring all of the resources that you have access to. I think I have already gotten my monies worth. The mentor and leaders are great and so encouraging. My opinion is that everyone should get on the program. I have felt so much better since I've been on it.
Karyl Fidler Asta
I joined in June 2012, lost 35 lbs by the first of January. Yes I lost weight through the holidays. I have kept it off for 3 1/2 years. My husband was pre diabetic and high cholesterol. He now has perfect lab work. The support you get on this program and the food library and recipes on the website are amazing. Travis and his team work tirelessly to find new foods, recipes and to keep things fun and interesting. No boredom here! The price is $99 because Travis wants people to be able to afford to get their life back by getting healthier, so they can live a more abundant life. He cares!
Larry Thomas Cole
I started the program on Sep 30 2015. That night, at the meeting I weighed 264. I have now been in maintenance for about 2 months I am now at 200.6. I am 57 years old. This has been the best program I have ever done. I am smaller than I was in High School. Worth way more than 99.00 in my opinion.
Donna Pelfrey Morris
I can and will testify at any given moment that this program works! I am 50 yrs old. I have lost 40 lbs! My blood work is perfect. I have so much energy. This is the thinnest I've ever been in my life. 15 lbs to go......! This program changed my life and my lifestyle!
Milly Waters
May I say...if the concern is low pricing..this is NOT a scam. It is a marvelous program. The health and nutritional information is amazing. The program WORKS. The pricing is so low because these wonderful people who founded this are more concerned with helping people than making money. If it was priced based on how well it works and all you receive in benefits NONE of us could afford it.
Gail Pritchett Avant
Want a life-changing experience at an amazing price. Signup for Shibboleth. This lifestyle change is a program you can not put a price tag on. The transformation that will take place if you commit and follow every component will astound you in many ways, physically, mentally, spiritually and of course the weight loss. This program is easy and fun. Join and reap all the great benefits!
Melvin Wells Jr.
My wife and I started about 2 years ago. Both determined to get our lives back. 120 lbs together total weight loss! I came off of blood pressure and acid reflux medication. Learned an awesome program that was sustainable, fun, and effective. Not only did we lose weight, but we met, and became friends with two of the most genuine people out there. Travis and Sasha truly have a heart to reach and help others.
Amanda Lenae' Buckner
Shibboleth is life changing! Anyone who lives this lifestyle the way it is designed to be lived will be changed from the inside out. Both the visible weight and the invisible weight that weighs a person down will be lost. And freedom from food addiction, confidence in God and self, and peace with God and self will be gained. That is PRICELESS!
Tracey Gay Steelman
Absolutely the best program and daily support for fast effective weight loss, the right way! I'm a lifer and $99 is an amazing price for all the resources you have access to. The mentors are here around the clock and are always eager to assist with any questions or concerns. I love them all!!! I love Planet Shibboleth and they can't get rid of me smile emoticon
Patty Underwood Delaney
All I know is that it works!!! I tried for years to lose wt,lost,gained back!! Plus some!! I lost 35 lbs and kept it off for 6 mo.! I am now ready to lose 30 more!! It's a way of life that will keep you from regaining the weight too. PS. I'm 65yo
Charles Hicks
You will never loose weight this easy for a price like this. Trust me I have struggled with weight loss the last 10 years, I tried all kinds of weight loss programs, and nothing compares to shibboleth, I started January 17th and I lost 15lbs the first two weeks, I have lost a total of 58lbs, since January, I have not been to the gym a single time. I have not been doing exercise at home, I simply eat the way the program is designed, and I am never hungry, if you want a true way to loose a few lbs fast or a lot of weight consistently this is the program. This will become your way of life, you have 6 holidays per month, that you can eat what ever you want, but when you see the weight start falling off you will not want to stop, I guarantee you it is easier to loose weight than you could ever imagine. One word in weight loss ( Shibboleth ) no drugs, no exercising just weight loss at a price you can afford.
Melissa Ann Baynes
This program is worth way more than what it costs. Several of my family members were able to come off of medications due to weight lost following this program. All other weight loss programs that I am aware of are upwards of $30 a month so I think we can all agree this is a bargain, especially when those of us who have participated know that it can ultimately change your life. I could sit here and name person after person who literally got their life back after losing weight all the while growing closer in their walk with the Lord. You can't put a price on being able to live again. You just simply can't!
Kay Howard
The problem might be some people don't have alot to pay up front. It is well worth a $100. I joined during ur special so I paid less. I tell everybody wherever I go what i am on and I tell them how much we have with the program. With the recipes I love love love the recipes. I have only had one thing I have not liked. I haven't lost weight extremely fast but that is my own fault. I love this way of life. I wish I had learned all this sooner. Once u do this program and then have a cheat day u feel bad ,so bloated and just a blah feeling. What people do not realize is there is not a monthly fee. WW is so expensive and this program is so much better. I say 100 is well worth getting ur life under control.
Sharon Haycook
I can't even imagine putting a price tag on a program like this. I have done every diet imaginable and have never had success like I do with shibboleth. I have done beads, pre-packages meals, meetings, injections, you name it I've done it and have never been able to lose like I do with this plan. You will never get the personal one on one support that this offers either. It doesn't matter what time or what day they are always willing to help and answer any questions you have. I will be a member for life. You simply can't put a price on what you get from this program. I personally have lost 50 lbs and although I fell back to old habits for awhile I was never judged and felt completely comfortable starting over. When I lost that weight my blood sugars and blood pressure were normal and since gaining some back they have gone up again. Needless to say I am back on track and plan on staying that way. Can't thank the staff enough for all they do.
Wanda Caudill McElrath
For people that are struggling financially, they will work with you on the fee, and there are tons of economical food choices, so you cant really use money as an excuse.
Kris Hall
I came in a LONG time ago at the 99$ join and it was the best money I have ever spent! I have lost ALL the weight the doctors said for me to come off my Rx and I FEEL GREAT! Not to say I stick with it but it is so amazing to step right back in and start my combinations correctly, and cut out all the junk. But... one thing that is always worth the investment is the encouragement you get along the way. Coaches to other members, it's like family, the kind that cares, loves and supports. Can't say enough about how wonderful this program is. Thanks.
Dwayne Martin
Was the best money spent ! Not only am I healthier, thinner, have more energy, and also breath better.... Not to mention I save more money than that every 6 mos on medicine that I no longer have to take! Heck it's worth a hundred dollar for the Christian fellowship and lessons from Jason Whitener!! Praise God!!!
Donna H. Williams
At 74 years old I thought I was stuck with a body fit for a wrestler‼️ Thanks to the shibboleth lifestyle I am 40 lbs lighter and willing to stay on it and Renew my membership❣
Melody Unger
There is no price you can put on a life given back to you. From infirmity, pain and diabetes this program has saved me. It is worth its weight in gold & I thank and bless Travis & Sasha everyday for this miraculous lifestyle then I have been alone for the past several years. If anyone doubts that this is Travis's God given ministry, all I can say to them is give it a try you will never go back.
Terry Ford
I don't know anywhere you could find a program that offers so much for so little! Shibboleth is above and beyond anything I've ever tried. When I see commercials for other weight loss products and services, I laugh and shake my head...There is absolutely no better lifestyle than Shibboleth! $99 is a small price to pay for a lifetime of change! Get on the Planet.
Iris Adams
How do you put a price on life? Since January I am down 25 pounds and my husband is down 25 pounds and off medicine for diabetes. Some people may think Shibboleth is a scam at $99 but again I ask, CAN YOU PUT A PRICE ON LIFE? Sounds like a deal to me at $99. It works.
April Newman Wells
I haven't been on the program long but it is a small price to pay for all that you gain and I'm not talking about weight but weightloss! This program is no gimmick, no quick truck, it is a life altering program. I just wish I had known about it sooner! It's about living a healthier lifestyle. I have lost 14lbs so far not as high of a number as some others have lost in little over a month but I know what's going into my body and I FEEL BETTER!!!! Like Travis Martin says it's about changing the cycle. I hope what I have learned and continue to learn will be passed down to my son and grandchildren!!!! Let's break the cycle together!!! P.s. I Love Jesus so naturally I love the inspirational videos that incorporate the Father, the Son, and the Holy Spirit!!!! Shibboleth for life!!!!!
Cleo Manley Lowery
How much would you pay to not have to take diabetes meds or blood pressure meds? I was taking Metformin twice a day,glimepiride twice a day, and three blood pressure pills,also 59 units of Lantus, in a short period of time have come off completely the glimepirid,lantus and a blood pressure pill, the lantus along cost approx. $300. I've lost 75 lbs since last May 22th, and feel better than I have in a long time. If I had it to do over and know what I know now, I would do it in a heartbeat. Worth every penny. Shhh. Don't tell Travis Martin cause he might raise the price, I would pay more.
Judith Thomason Atkins
I thank God for Travis Martin and Shibboleth. I had acid reflux really bad from lap band surgery. Had my band deflated. Found Shibboleth now I have lost weight and no acid reflux. $99 is nothing to learn how to control your weight. Bless the name of the Lord all the time!
Catherine Cross
Best way to lose weight in the world, not a scam, i paid 150 when i first started, 7 months later i reached my goal, still doing it, love the recipes.
Susan Abramovich
Are you kidding..THATS LESS THAN $10 a month. I've coached with another company and folks are spending over $300 a MONTH and not even blinking and this is supplements. The assistance and coaching Shibboleth gives is an amazing value plus the recipes, shopping assists, Facebook family, and your eating REAL foods that your family can eat also‼️ Please don't cut yourself short with the $99. It can be scary as a company with pricing. There will always be people that will scoff at the price; and that goes with anything now a days; BUT what you are giving to those who do join in return is simply INVALUABLE
Jennifer McCarter
This program is the BEST thing I have ever done for myself! When I started the program I honestly didn't believe it would work for me but each week I kept losing weight...I have now made this my lifestyle and will never go back to my way of eating! My son has also lost almost 50lbs...he's 15 years old!!! This program is invaluable and I truly believe that God gave Travis Martin a gift to help people!
Debbie Stafford- Miller
This program has changed my life. I tell everyone about Shibboleth. $99 is such a valuable investment in a life changing program. I have done weight watchers and other programs nothing compares to Shibboleth. If you follow this lifestyle you are guaranteed weight loss and many more benefits.
Dana L Brannon
I would pay the 99 per year gladly..!! I paid 149 to start this program almost a year ago and it's been well worth it..!! The program in itself is amazing not to mention the support I've gotten from the whole shibboleth family.. I would recommend it to anyone..! Thank you for all you have done.
Maylene Martin Maney
Living on planet shibboleth has been the best thing in the world for me!! In 2 months and 2 days I have lost 38lbs and have completely taken off my insulin pump!!! I haven't taken any insulin in 1 1/2 months!!! I have all the energy that I didn't have before!!!! If you say that it's not possible trust me I thought the same thing!!! The mentors are so super and Travis well what can I say!!!! God truly blessed him to come up with this and then he cared enough about you and me to help us!!!! I am living prove that this really works but not only me but, a whole bunch more!!! Join and see for yourself!!!!
Nan Eidson Cosper
This program is worth every penny of the $99 we pay Other programs are way more expensive and do nothing to educate you on how or what to eat. I always knew there had to be a way to eat that worked with your body's chemistry and praise the Lord that Travis Martin cracked the code. I talk about this program every day and I can't understand why others are not lining up three fold to join. Since January I have lost almost 25 lbs and have 5 more to reach my goal. Thank you Travis and the Shibboleth team I love, love love this lifestyle and I will live it for always.
Pam Waits Mitchell
I couldn't begin to fathom the support,resources, training, mentoring, etc that I've received from Shibboleth Program for $99. I've tried other programs/products that were a lot more expensive and didn't receive the results I've received in the short time I've been on Planet Shibboleth! This is a permanent life style change for me and $99 is such a small price to pay for a healthier and happier me:) Love my Shibboleth family!
Jeanette Coker
I joined for more than that and it is well worth the price. If anyone is looking for a diet plan like WW Or ordering meals the price is a lot higher also this is not a DiET This is a life style. You have classes you can go to also on line classes. You have a mentor that will help. You can buy from the grocery stores or online shibboleth store. If anyone is concerned after their health and really concerned about the cost of medicines you need to try this lifestyle. My doctor suggested I tried this out and I don't regret joining at all. My last doctor's ap last week my blood pressure is good (no more blood pressure med) also my A1C was 5.5 (no more metformin) Praise the Lord! Do not think you are too old for this program for I am over 70 and I am not the oldest. IT WORKS!
Debbie Hamby
This is an unbelievable program. The value is truly priceless!!! I paid approximately 1000 for a program that didn't teach me or have the variety this program has. Program=priceless!
Keri Hefner Cope
Before I found Shibboleth I weighed 350 lbs. I was depressed, in constant pain in my joints and I felt hopeless. I had lap band surgery in 2003 and failed at maintaining my weight loss. I got on my knees and prayed for God to show me the way to getting my life back. It was through God's grace that I found Shibboleth. I have just celebrated my 2nd yr anniversary with the program and have lost 170lbs. In August I will have my second reconstructive surgery done and I will be at my final weight loss goal. Shibboleth is not a diet. It is a lifestyle that you can live with and achieve your goals. It is well worth the small investment to get your life back. I am finally free of my aches and pains and look like I did when I was 16 yrs old. Love you Travis Martin and Sasha Martin and team Shibboleth.
Beverly Godfrey
$99 is a small price to pay for this new lifestyle. I have lost almost 60 lbs since starting over 1 yr ago. This great! !! I get to eat the food I love and still lose weight. Not only have I lost weight but my health has improved, energy and stamina improved and I sleep better. Whats not to love??
Fostene Arrendale Wimpy
I agree! I had lap-band and stayed sick all the time and just got the fluid taken out, so it didn't do me any good. It didn't teach me how to eat, just wouldn't let me eat. Shibboleth is a God send!!!
Sandy Thames Kicklighter
I cannot put a price on this wonderful lifestyle. It has totally changed the way I look at food. I am educated on how to eat . I love eating this way!!! I love the grace of having a holiday every once in a while!!!! It is worth so much more that $99. Thanks Travis!!!
Bobby Cartledge
$99 is a small price to pay for a new life!! It's hard for me to keep it short because I'm so excited about my new life and my closer walk with my Lord but here's a great benefit I've received since starting Shibboleth on August 24, 2015: lost 88 pounds, on April 12, 2015 my A1C was 10.2 and glucose was 283... On April 14, 2016 my A1C was 5.4 and glucose was 86! Doctors words "Mr. Cartledge, you have cured your diabetes"! Bless the name of the Lord at all times!
Lori Ann McDonald Whisenant
I thank God everyday for the price. If it was not reasonable I would have never done it. I got so much more than I thought I was getting. I am so happy to be a part of something that is so informative..who takes you to the grocery store and tells you what to get..no one else I know. The classes are teaching me so much also. I just cant believe what this is going to do to help me get healthy.
Barry and Diana Wilks
I love planet Shibboleth. I have lost slowly since October and have gone from an 18 to a regular old 14 and L in shirts. No more Lane Bryant, no more Plus Size or Women's sides of the store. I shopped today and for the first time in 11 years, I am just plain and simple a regular sized lady!!!! Praise God-
Sharon Patterson
Blood work came back good! Dr. took me off my blood pressure medicine. I told him about my new lifestyle and Shibboleth. Said he had two more patients on it and was quite pleased with my results. July 22 till now, 55 lbs down!
Randy Waskul
This program is EXPENSIVE! You have to buy new clothes because your old ones just fall off!
Paula Davenport
Wow!!! I am so happy I hit a major goal 6 months ago. I weighed 290. Today, I weighed and hit 220. That's 70 pounds! Yes, I am one happy person.
Amber Hudgins
13 week update.....down 29 lbs...and more than 10 inches!! Shibboleth Rocks!!!!!
Candi Keeler
What you do/have done is amazing!! 1. The ministry is out of this world! I thank God for you and the rest of The Shibboleth Team for allowing God to work through you in so many ways! Lives are being touched that may never be touched if it weren't for Shibboleth. People are being witnessed to that may NEVER walk into a Church building, or may not have Christian friends and family, may not own a Bible. People that may NEVER hear God's word if it weren't for Shibboleth. Even if they're not thinking about it, they're hearing it and that seed is being planted. Thank you God for your servants so willing to say "here I am Lord, use me." 2. The tools y'all put out there for us all to use so that we may have a healthier, more active and longer life. Y'all amaze me!! The encouragement you offer to all of us! Prayer and encouragement is what we all need. This lifestyle is so easy. All of our lives can be changed and changed at a fast rate, medium rate or even slow rate. It's our choice! I've not discussed numbers publicly but here it goes. I stepped on the scales weighing 278.4 when I signed up on Shibboleth. My husband and I started Feb 4th 2016. Momma was put on Hospice Feb 16th and passed away Feb 26th and she lived with Scott and I. Feb. 22nd she heard me squealing like a pig (no pun intended) she knew it was a victory squeal. She wanted to know what "Shibboleth" had done for me. Lol I had to run upstairs and share it with her. She was so excited to see me taking my life back. I had gained 48lbs from July 2015 till Feb 2016. Momma passed Feb 26th just 22 days after we started Shibboleth and I was 21lbs down!! I could rattle on and on but I'll try to stop. Lol Yes we've been through some tough weeks. I must say though it's never been tough living our new lifestyle except portion control at times. I feel better than I've felt in so many years!! Even when I wasn't so heavy I didn't feel this good!! I don't know how many inches I've lost but I'll tell you what I do know. I do know that God is good!!!! smile emoticon I also know that I was 278.4lbs size 20-22 and I was miserable. I now weigh 224.2lbs and I'm wearing size14-16. So that's 54lbs down in just 3 months. My blood work is good but I'm going back to have it done again just to see the Shibboleth difference. June 10th. I apologize for writing what seems like a book but My God, Shibboleth, Team Shibboleth and my weight/health is something I can talk about all day long! If you're not being criticized I was always told you're sitting idle! We know our God doesn't want us sitting idle! Thank you again from the bottom of my heart. My husband has lost 49lbs. I love you all, members and Team and I pray for all of you. Please continue to pray for me. smile emoticon
David Allen
Down 18 pounds in 49 days. The main thing for me is when I walk from my car into a store I feel 10 feet tall. I look around and see other people looking the way I used to look and think, just a few weeks ago I was there. It is a great feeling and it's something I think I can easily continue. Another benefit for me is NO HEARTBURN! No zantac. On one of my holidays I ate like a wild man and guess what (heartburn). I learned my lesson and will forever watch portion size. I am a happy camper at Shibboleth.
Chelsea Ward
This program is such a blessing! Thank you, Travis Martin and Sasha (and all of the others who make this program what it is) for being obedient to what the Lord has called y'all to do. Souls and bodies are being radically changed! Praise be to JESUS! #42poundsdown
‹
›