SHIBBY SHOP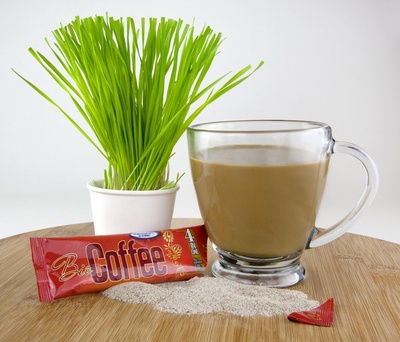 Ingredients: Instant arabica coffee powder, non-dairy creamer (glucose syrup from tapioca starch & vegetable fat from palm kernel), oligosaccharide (from chicory root) and wheatgrass powder.
Bio Coffee is 100% organic—a specially formulated Columbian Coffee and Wheatgrass blend. Bio Coffee is the only alkaline coffee on the market. For an instant drink, add water. It mixes instantly and tastes great!
Wheatgrass is one of nature's superfoods. It's equivalent to having 3-5 servings of green vegetables in one cup. Bio Coffee is an excellent source of fiber, a great prebiotic and probiotic, and provides chlorophyll, amino acids, vitamins, minerals, and enzymes. Helps blood flow, digestion, and general detoxification of the body. Wheatgrass is hailed the "King of Alkaline Foods," which helps the body from becoming acidic. An acidic environment promotes disease.
Bio Coffee helps with diabetes, high cholesterol, and high blood pressure, relieves constipation, and improves digestion, inflammation, fatigue, gastrointestinal (colon) problems, detoxification, the immune system, weight loss, and eyesight.
1 packet = 1/2 snack or an extra on Shibboleth.
This coffee is most effective when just mixed with 8 oz of water. No need to add anything else!
No Caffeine
No GMO's
Gluten-Free
No Soy
Dairy Free
No hydrogenated oils
Product Disclaimer
Attributes:
Weight Loss Meter (WLM)

:

-3

Quantity Per Box

:

16

Product Points

:

4
$33.00
Retail Price
$26.40
Member Price
*Quantity Discount: Purchase 3 or more to save and pay $28.00 per item.
Check out other similar product(s):
Product Reviews
---