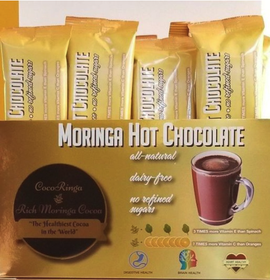 CoCoRinga - Moringa Hot Chocolate (10/Box)
CocoRinga is a Multi-Nutrient, Multi-Vitamin, non-Dairy, SuperFood Hot Chocolate made with natural unprocessed Cacao.
Drink Hot or Cold, Add to smoothies, shakes, cakes etc. Contains miracle food Moringa.
CocoRinga also has MULTIPLE Health Benefits!
- Helps maintain healthy circulatory system
- Helps reduce high fat diet induced obesity
- Helps relieve brochial asthma
- Helps maintain brain health
- Improves insulin resistance and glucose levels (for diabetics)
- Improves mood
- Improves blood vessel elasticity
- Helps stomach disorders
- Improves digestion
- Helps cholesterol levels
- Reduces cravings
1 pkt = 1/2 snack or Extra
2 pkts = 1 snack
3 pkts = meal and -3 on the Weight Loss Meter
Product Disclaimer
Price :
$18.75
Non-Member Price
$15.00
Special Member Pricing
Attributes:
Quantity Per Box: 10
Product Points: 2
Product Reviews
Please login to review this product.
---