SHIBBY SHOP

Cooking Oil - Awesome MCT (Zero Drag)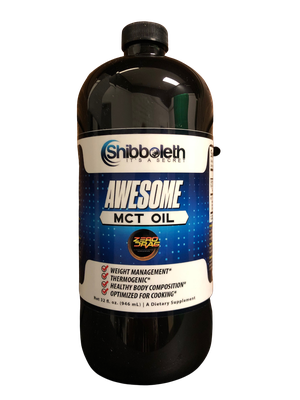 Ingredients: (Medium0chain triglycerides) (from coconut/palm kernel oil) [50% caprylic acid (c8) and 30% capric acid (c10)]
Our Shibboleth AWESOME 100% MCT Oil is a pure, unflavored, and sustainably sourced MCT oil derived from coconut.
For your Shibboleth PERFECT DAY, use up to 1 tablespoon per serving when cooking in approved combinations to enhance your weight loss efforts.
Watch Video here:
*100% MCT can give you more energy, help you to feel full, and improve brain function, it has antimicrobial and antifungal effects, and it can help manage blood sugar levels when eaten in proper timing and combinations. It has 0 (zero) propensity to be stored as fat in the body unlike LCTs (long-chain triglycerides) like vegetable and olive oils. But, like anything else, just because it is good for you doesn't mean it should be added to everything!

*MCT Oil is a very quickly digested oil. This means it passes through your gut quickly and if you are not used to it, it can cause you to feel nauseous or have an upset stomach. Add it to your "diet" slowly. It is not recommended for children as their digestive systems are likely still working quickly and properly already, depending on their activity levels. Again, add it slowly to assess your tolerance.

*These statements have not been evaluated by the Food and Drug Administration. This product is not intended to treat, cure, prevent or diagnose any disease. Please consult your primary physician about the benefits and risks of adding MCT or any supplement to your eating plan.
Note from Travis... "I have been using 100% MCT oil for more than 20 years. During my weight loss journey, I was fascinated with the bodybuilding community. I studied the daily routines of these extremely disciplined athletes. From their eating regimen to their workouts and even sleep patterns. MCT oil was very popular for use as a clean energy source. They added it to drinks and cooked with it. Since they had very little body fat, the MCT oil gives a quick energy boost and is a healthier alternative to "carbing up". MCT oil breaks down and enters your cells quickly providing a great fuel source and brain boost!
However, I wasn't a bodybuilder, so during my "weight loss phase" I needed to burn body fat! For me, replacing conventional oils like vegetable and olive oils with this thermogenic, 100% MCT oil was not only the healthier option but also optimized my fat-burning potential when I combined it with already fat-burning food combinations.
Our best fat-burning combination is 1+2+ MCT
There are many recommendations and fads that suggest drinking and adding MCT oil to shakes, coffee, etc for the brain and energy boost. My recommendation is that you only cook with 100% MCT when in a weight loss mode. If you use it outside of an already fat-burning combination, you are only adding more fat and calories to burn during your day. We want your body to burn unwanted body fat!
*Please note that I recommend this product based on my own research and experience and it is not required. I highly encourage you to also do your own before trying any supplemental regimen. Suggested supplementation does not replace, but can enhance an already proven weight loss program.
I lost 130 pounds and have maintained it for over 20 years. I want to share each part of my journey so you can take from it what benefits you and plug it into your own lifestyle.
All my best to you! ~ Travis
Product Disclaimer
Total Calories per serving: 130
Attributes:
Weight Loss Meter (WLM)

:

-3

Size

:

32 oz.

Product Points

:

10
$36.71
Retail Price
$29.37
Member Price
Check out other similar product(s):
Product Reviews
---