**BECOME A SHIBBOLETH MEMBER TODAY AND SAVE!**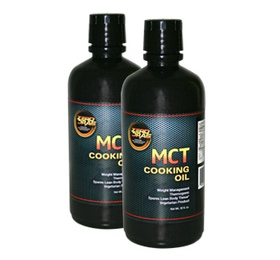 Zero Drag MCT Cooking Oil
32 oz Zero Drag 100% MCT Oil
I have been using 100% MCT Oil for more than 14 years. I swear by the stuff. It was a major factor in my extreme weight loss and has continued to be a chief component in my maintenance program.
I have been teaching clients, friends, and family about the fat loss benefits of 100% MCT Oil for a very long time with extraordinary results.
30,000 clients and now 1,000 Shibboleth family members cannot be wrong.
Beware of the marketing. Just because a product says that it is MCT Oil doesn't mean that it is 100% MCT Oil. In fact, many labels will say MCT Oil, but in actuality the ingredients list paints a different picture disclosing that most products in the market place are only 30-60% MCT Oil. Do you want to take that chance with your goals and fat loss?
All you need is 1 tablespoon per serving and cook on low to medium heats. Remember 1 + 2 + MCT is your BEST FAT BURNING COMBINATION!
Watch Video - Shibboleth approved Shake example
Watch Video - Cheesy Cauliflower Recipe Modification
Watch Video - Zero Drag Protien Shake
Watch Video - Bacon & Cheese Burrito
Watch Video - Weight loss Pancakes
Watch Video - P28, Egg, and cheese
Watch Video - Hot Dog P28 Style
Watch Video - Ice Cream Sandwich
Watch Video - Spam and Eggs
Watch Video - Planet Shibboleth Scampi
Everyone we think this product is great for weight loss when used according to our Shibboleth Shield, but you may have allergies to specific ingredients in the foods sold here or your Physician may not want you to consume one or more of the ingredients sold here. Please call us at 678.540.6287 to go over the ingredients list on the product you are about to purchase if you have any doubts about whether this product contains any ingredient that may be harmful to your health. We care for you.
PLEASE BE ADVISED TO CHECK WITH YOUR PHYSICIAN BEFORE YOU PUT ANYTHING IN YOUR MOUTH. THIS INCLUDES WHEY, SOY, NUTS, SEEDS, GREEN VEGETABLES, CHICKEN, FISH, TATERS, CORN, BEANS, LACTOSE, GLUTEN, SUCRALOSE, ASPARTAME, WHEAT, DAIRY, DORITOS, COLA, ALCOHOL, MUSHROOMS, ARBYS, MCDONALDS, WENDYS, CHICK FIL A, RECIPES, ETC. WE DO NOT TREAT CURE DIAGNOSE PRESCRIBE. THESE ARE RECOMMENDATIONS THAT SHOULD BE TALKED OUT WITH YOUR EXPERT MEDICAL PROVIDER. PLEASE TALK TO YOUR DOCTOR TO SEE IF THIS PROGRAM IS RIGHT FOR YOU AND ALWAYS ALWAYS READ THE LABEL BEFORE PUTTING ANYTHING IN YOUR MOUTH. FOOD ALLERGIES ARE PROMINENT THESE DAYS SO BE CAREFUL. IN OTHER WORDS, WE CAN'T COVER ALL THE BASES HERE SO IT IS YOUR RESPONSIBILITY TO READ THE INGREDIENTS BEFORE CONSUMING ANY PRODUCT HERE, ANYWHERE, ETC. AFTER YOU HAVE CHECKED AND RE CHECKED THE LABEL STILL RECONSIDER WHAT YOU PLACE IN YOUR MOUTH. OBESITY IS THE LEADING CAUSE OF CANCER, HEART DISEASE, AND ALMOST EVERY OTHER DISEASE UNDER THE SUN. OBESITY IS A RESULT OF OVER CONSUMPTION AND A RESULT OF OUR CULTURE. THE PRODUCTS HERE HAVE HELPED ME OVERCOME OBESITY. THEY MAY OR MAY NOT BE RIGHT FOR YOU. ~ SINCERELY TRAVIS MARTIN
Price :
$29.19
Non-Member Price
$23.35
Special Member Pricing
Attributes:
Size: 32 oz.
Product Points: 2
Product Reviews
Average rating:
Please login to review this product.
---